Luxury Accommodation in Costa Smeralda
With its spectacular seafront rooms, just a few steps from the marvellous private beach belonging to the hotel, the Grand Hotel Smeraldo in Baja Sardinia is the perfect place in which to spend an unforgettable holiday in the heart of the Costa Smeralda.
The hotel's rooms which are luxuriously furnished in authentic Sardinian style – made unique by the use of warm colours and beautiful fabrics – are spacious corners of Paradise in which you can spend plenty of time relaxing perhaps whilst watching the spectacular sunrise and sunset reflected in the gulf below from your balcony.
The Grand Hotel Smeraldo, a 4 Star hotel which is less than 200 metres from the centre of Baja Sardinia and just two kilometres from the exclusive resort of Porto Cervo, is a place that is full of charm. The hotel's four large swimming pools that gently descend towards the sea – two of which have a whirlpool spa – is a really magical setting. Surrounded by the heavily perfumed lush Mediterranean vegetation, the area around the pools is the perfect place in which to relax and enjoy a refreshing drink, a snack or a light lunch.
Just a few steps away is the "Beach Bar" a happy and informal spot which looks directly out over the pool area and provides guests with a unique view of the sea and the limpid waters of northern Sardinia.
Offers from:
Grand Hotel Smeraldo Beach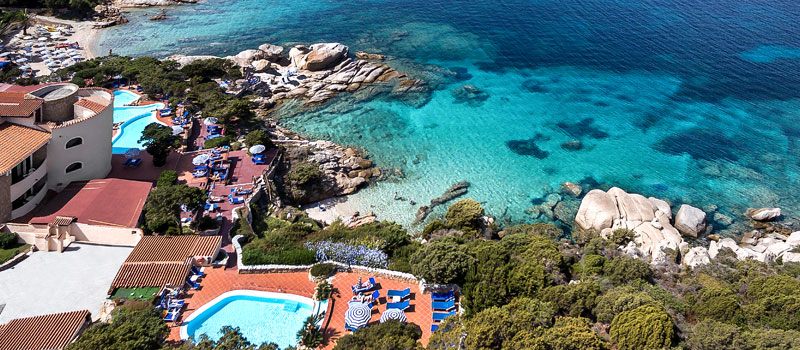 PREPAID AND NOT REFUNDABLE RATE - PAY NO...
Get the best price for your holiday in Sardinia! B...
discover more
Grand Hotel Smeraldo Beach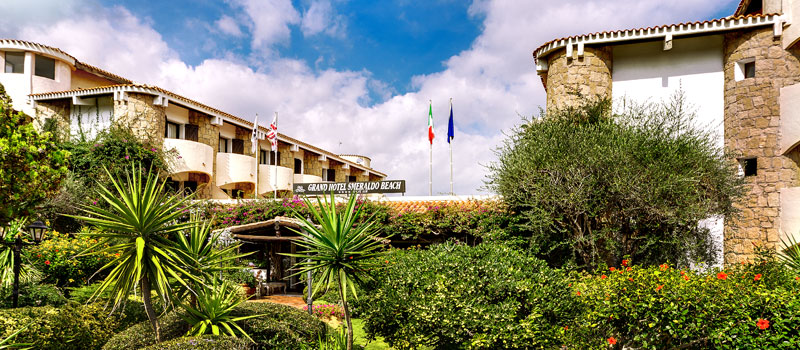 FLEXIBILE RATE - PAY IN HOTEL
Choose the best flexible rate! Free cancellation u...
discover more
Online offer:
Only with us